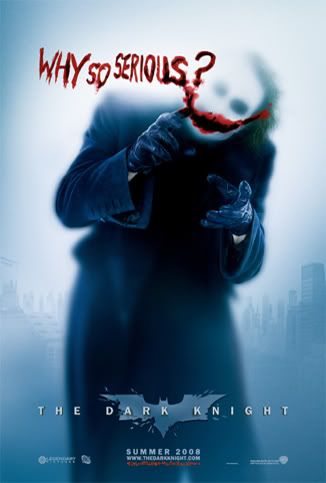 I was going to take a pass on all the Heath Ledger eulogizing. He died too young, another footnote on Hollywood's long list of deaths-come-too-soon. However, he wasn't a shining star, with his greatest performance to date being overshadowed by Jake Gyllenhaal. He was a solid-yet-unspectacular member of the Tinseltown Aussie Connection, far below the Hugh Jackman-Nicole Kidman-Mel Gibson-Hugo Weaving marquee. Just above Guy Pearce, maybe.
I mean, he couldn't carry A Knight's Tale.
However, it was all going to change when he took the role that is now one of the greatest in Jack Nicholson's bio. Playing a terminally psychopathic madman well tends to get you noticed.
Good ol' Jack stoked the fire when he claimed to have said "I warned him" without saying what about. Maybe playing the likes of The Joker can be hazardous, especially for thespians who like to get into their character's skin?
While we don't believe that Jack went wacko, we also don't really know what Anthony Hopkins has with his Chianti these days.
It will be vaguely discomfiting to watch The Dark Knight now, though. While people flocking to the theaters to see a dead man play a homicidal clown isn't unprecedented, the rumored tour-de-force performance of a lifetime that Ledger gave as the Clown Prince of Crime stands to go down as one of the most eerie in recent film history.
I know that I'll be watching.